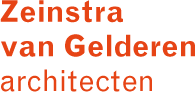 Collective House
This residential complex contains 36 different apartments within one unified building. The building is encased in a skin of bricks, with openings in it that have a specific order and that provide the elevations with an independent narrative.
Project
36 apartments De Aker Amsterdam
Client
Housing corporation Het Oosten, Amsterdam
Design
Mikel van Gelderen
Collaborators
Ruud Visser, Leonieke Hornsveld, Bjorn Scharwei
Finised
May 2011
> Download this project (pdf)

The Collective House is situated in De Aker, a new residential area in Amsterdam-West, and contains 36 dwellings all of which are different in size, plan and section. However, together they create one unified whole. Both the elements and the whole have their own independent order. On the axis of symmetry two corridors give access to the dwellings: on the ground floor a broad, heavy corridor flanked by rows of columns, ends in a staircase, leading down to the water while on the second floor a two-storey corridor leads to a roofgarden with one pear-tree. The corridors run along, through, above and under the dwellings. The building is covered by brickwork in which openings are made, framed by white window-frames. These openings follow their own order and create an independent narrative for the elevations.