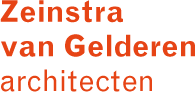 IJdock Offices
The particular form of this triangular office tower, part of the IJdock complex, resulted from cutting sightlines out of a 180 x 60 x 40 meter building mass. With two facades facing the river IJ it marks, together with the hotel on the other side, the entry to IJdock.
Project
Water Police station and 5800m2 market office space
Client
ASR development
Design
Jurjen Zeinstra, Mikel van Gelderen
Collaborators
Peter Nagtzaam, Tjerk Bosker, Angelique Haver
Finished
August 2012
Urban plan
Dick van Gameren and Bjarne Mastenbroek
> Download this project (pdf)

In the design of this building we have given the quay, the most important and imaginative space of the Water Police, a prominent position in the building volume. In the left over footprint of the tower, we managed to squeeze in the entrances, lifts, stairs and fire-exits. In the entrance hall of the police one finds a triangular staircase with a void, connecting the four stories of this station. The repetitive nature of the office space with its particular planning grid was the starting point for the facade composition of the windows with their various widths. In the elevations facing the IJ waterway a second, independent composition of polished dark and rough light polyester concrete panels has been added. Seen from a distance, the two compositions interfere and a layered image is offered to both the IJ and the city.