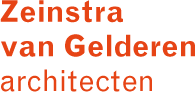 © Jeroen Musch
Block 5 IJburg
"One of the intentions of the design of this block was to create an urban silhouette. (..) Although the design is made by three different architectural offices, Block 5 has succeeded in maintaining a monolithic appearance"
Project
56 apartments, 2000 m2 commercial space and a parking
Client
Waterstad 2 & ING Real Estate
Design
Jurjen Zeinstra, Mikel van Gelderen, Ira Koers
Collaborators
Charlotte Kokken, Peter Nagtzaam, Menno Veldman, Charles Hueber
Finished
Spring 2006
Urban plan
Niek van Vugt (ELV)
> Download this project (pdf)

Block 5 is a housing and shopping precinct on the recently reclaimed island of IJburg, east of Amsterdam. The apartments are spread over three till six floors in a group of interlocking buildings, with shops in the plinth below and car parking underground and are grouped around collective courtyards on the roof of the shops, offering framed views to the surroundings. The block was divided into nine segments and then randomly distributed among the three architecture practices. To maintain a certain unity in this forced variation, one kind of brick is used, with slight variations in dimensions, bond and joints.We interpreted our three segments as extruded volumes, running from the main street to the square at the back. A pitched roof reinforces this idea of extrusion and distinguishes our buildings from the others. The roofs have ceramic tiles in the colour of the brick. The facades at the perimeter of the block appear rather closed, with recessed windows facing the street. The inner courtyard facades are plastered in a white render and have large French balconies with a specially designed fenestration.